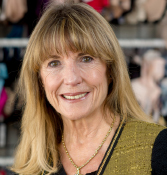 Penny is the Doyenne of the Parolis Family and what she doesn't know about women's lingerie isn't worth knowing. She can size up any woman just by looking at her and a measured fitting always confirms her judgement to be correct. Penny started out the business in 1993 with her son, then aged just 22, cold calling on stores in Johannesburg trying to sell them stockings in spring! The lessons they learned and their passion and determination succeeded in getting PDL to where it is today; from hosiery to swimwear to lingerie, supplying 16 of the world's top brands to the South African market and having three Inner Secrets Lingerie boutiques of their own in Cape Town.
Penny loved pretty underwear from the moment her mother presented her with her first matching bra and pantie set in white broderie anglaise wrapped in tissue inside a box. But you mustn't use the term underwear when talking to Penny – she insists the word lingerie should be used for the exquisite lace and mesh garments they sell.
Penny believes that if a woman wears beautiful lingerie it affects her whole outlook on life and gives her self-esteem. And it's true – you only have to look at Penny Parolis to appreciate this, and in her presence you find yourself sitting a bit taller and prouder. When facing a paragon of mature womanhood like Penny.