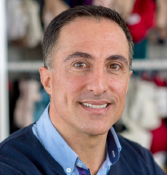 There's probably no other man in South African who has such an intimate knowledge of women's lingerie as Dimitri. When he stares at a woman's chest, he's not doing it in the way most men might, he's judging what bra she's wearing and whether it's the right size. On most occasions neither is right, because Dimitri knows that 75% of South African women are not wearing the correct size bra and have probably never been properly fitted.
It's his mission to change that and he's doing so by being a major driving force in growing the family business of distributing the world's most beautiful lingerie to South African stores, and stocking their own three Inner Secrets Lingerie in Cape Town. That's not as easy as it sounds, but Dimitri understands women's shapes and their psyche in a way that would make most men weep. He knows for example that younger, big busted girls don't want their breasts to be stared at and would recommend Parfait brand from Los Angeles – a good value garment with lace and mesh that looks pretty and helps to diminish the size. He knows that women who are similar in shape to shorter bodied Italian ladies, who like less coverage and more push-up, will love a Jolidon bra.
Dimitri knows about trends too and can reveal that nude is over and natural powder pink is in, with animal print making a comeback. But he says "Anything goes, don't get hooked on trends, stick with the colours and shape you like. It's all about you feeling good about yourself." And if ever there was a man who knows how to make a woman feel good about what she's wearing under her clothes, it's Dimitri Parolis!