About Us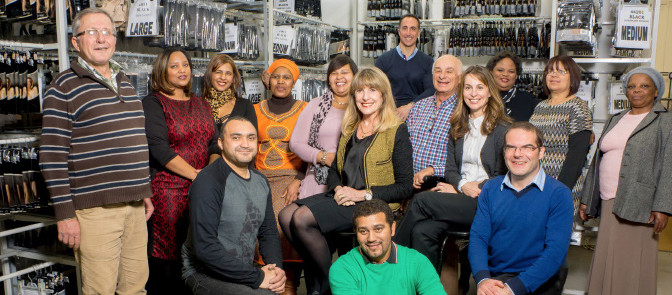 OUR COMPANY
PDL are importers and distributors of the world's finest lingerie, swimwear, sleepwear and hosiery to the
South African market. It's a South African-Greek family affair with mother Penny, Father Harry and son
and daughter Dimitri and Lexi running the show, with close friend and business partner Stef Pavlis as
Head of Finance . They started off selling hosiery, then swimwear and their entry into the lingerie market
came after a visit by Penny's to a store on the Greek island of Lesbos, where her husband's family came
from and from where she had always purchased her lingerie and bathing costumes. Seeing the high
prices of French brands like Simone Pérèle, Penny asked the shop owner "who buys this?" The reply
came, "It's the local women." Incredulous, Penny sought clarity, "What the women in black?" "Yes – you
wouldn't believe what exquisite lingerie is worn under those black robes!"
That settled it! Penny was going to give South African women the same opportunity to experience what
beautiful lingerie can do for a woman's psyche. "It's the confidence of knowing what's under your clothing
that empowers you," she says. With mentorship from the owners of Nota – a successful lingerie shop in
Athens, PDL signed exclusive distribution deals with the very best European and American lingerie and
swimwear houses. They now distribute 16 of the top brands into the SA market including, Simone Pérèle,
Audabe, Hanky Panky, Jolidon, Christies, Wacoal, Body Wrap, Gottex, Roidal and Sunseekers. They
also have three of their own boutiques in Cape Town called Inner Secrets Lingerie.
Harry Parolis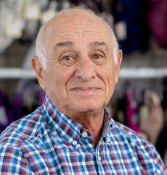 A Civil Engineer by training and profession, Harry Parolis likens bras to bridges, both being structures that require careful engineering. Harry was ahead of his time when he learned how to programme computers in the late-1960s and wrote the systems used by PDL for 20 years. He laughs when he says "I applied for a job at PDL in 1999" upon retirement from his position as Partner in an engineering firm, and took over admin, systems and the financial side of the family business. While on one hand a traditional Greek patriarch wanting his wife to stay at home and bring up their 3 children, he nevertheless was the "the solid rock and support behind our business" says his wife Penny, who started PDL with her youthful son Dimitri in 1993.
Harry's father came from the Greek island of Lesbos in 1926 and sought a bride from his homeland to come and join him in South Africa. A feisty, headstrong girl who had only met him once was only too keen to escape small village life and she boarded a boat and headed off for an adventure. Harry was born in Mowbray, Cape Town and is proud of his Greek heritage and is Honorary Vice President for Life of the Hellenic Community in Cape Town. His mother, known to all as 'Yiayia' who was a dedicated supporter of the family business and who cooked a family lunch every working day, only died recently aged almost 97 years. Harry plays golf rain or shine every Wednesday.
Back to top
Penny Parolis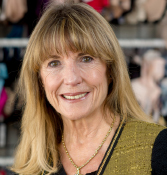 Penny is the Doyenne of the Parolis Family and what she doesn't know about women's lingerie isn't worth knowing. She can size up any woman just by looking at her and a measured fitting always confirms her judgement to be correct. Penny started out the business in 1993 with her son, then aged just 22, cold calling on stores in Johannesburg trying to sell them stockings in spring! The lessons they learned and their passion and determination succeeded in getting PDL to where it is today; from hosiery to swimwear to lingerie, supplying 16 of the world's top brands to the South African market and having three Inner Secrets Lingerie boutiques of their own in Cape Town.
Penny loved pretty underwear from the moment her mother presented her with her first matching bra and pantie set in white broderie anglaise wrapped in tissue inside a box. But you mustn't use the term underwear when talking to Penny – she insists the word lingerie should be used for the exquisite lace and mesh garments they sell.
Penny believes that if a woman wears beautiful lingerie it affects her whole outlook on life and gives her self-esteem. And it's true – you only have to look at Penny Parolis to appreciate this, and in her presence you find yourself sitting a bit taller and prouder. When facing a paragon of mature womanhood like Penny.
Back to top
Dimitri Parolis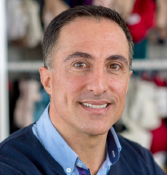 There's probably no other man in South African who has such an intimate knowledge of women's lingerie as Dimitri. When he stares at a woman's chest, he's not doing it in the way most men might, he's judging what bra she's wearing and whether it's the right size. On most occasions neither is right, because Dimitri knows that 75% of South African women are not wearing the correct size bra and have probably never been properly fitted.
It's his mission to change that and he's doing so by being a major driving force in growing the family business of distributing the world's most beautiful lingerie to South African stores, and stocking their own three Inner Secrets Lingerie in Cape Town. That's not as easy as it sounds, but Dimitri understands women's shapes and their psyche in a way that would make most men weep. He knows for example that younger, big busted girls don't want their breasts to be stared at and would recommend Parfait brand from Los Angeles – a good value garment with lace and mesh that looks pretty and helps to diminish the size. He knows that women who are similar in shape to shorter bodied Italian ladies, who like less coverage and more push-up, will love a Jolidon bra.
Dimitri knows about trends too and can reveal that nude is over and natural powder pink is in, with animal print making a comeback. But he says "Anything goes, don't get hooked on trends, stick with the colours and shape you like. It's all about you feeling good about yourself." And if ever there was a man who knows how to make a woman feel good about what she's wearing under her clothes, it's Dimitri Parolis!
Back to top
Lexi Parolis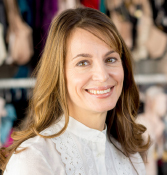 Don't let Lexi's diminutive size and dimpled cheeks fool you into thinking she's the least forceful of the Parolis family. Lexi has got as much passion and spirit as the rest of the family. With her entry into the family business when her mother Penny was diagnosed with breast cancer in 2011, Lexi began a process of setting up structures that would streamline the processes to make PDL even more efficient. She also accepted the role of managing their three Inner Secrets Lingerie boutiques in Cape Town; Sea Point, V&A Waterfront and Cavendish.
Lexi's leadership qualities, team building and mediation skills and running effective systems came as a result of working her way up from being an SAA check in agent, to being Executive Manager Airports for Comair Limited, managing the British Airways and Kulula.com brands across all Southern African Airports. This didn't happen by chance, Lexi has not only charm, personality and management skills, but a winning way with people. These, plus a healthy dose of Parolis determination sent her on a steep career path to the top.
But big business was not entirely fulfilling, nor was commuting from Cape Town to Johannesburg. After taking time out to travel and seek spiritual insights, Lexi found her way back to the family business and embraced the strong bonds that bind this family, no better demonstrated than at the daily gathering of the Parolis clan for their Greek family lunches in Granny 'Yiayia's kitchen.
Back to top
Stef Pavlis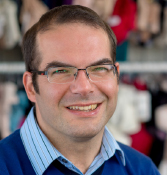 Oblivious to the allure of lacy lingerie all around him, Stef Pavlis gets all fired up about numbers. It's not the design of a garment that inspires him, it's the efficiency of the accounting systems. Stef is PDL's Financial Manager and a partner in the business, and has a passion for making systems work at their most efficient.
He likes nothing more than a self-imposed challenge to improve procedures like stocktaking, reporting, auditing and financial analyses. It gives him a kick to know that the Company is being run just that little bit more effectively after he's tackled a problem. It's appreciated by the whole family too, who place high value in their longstanding relationship with him as a family friend and consider Stef imperative to the ongoing success of PDL.
Back to top