HOW TO CREATE A GREAT VISUAL DISPLAY FOR YOUR ONLINE LINGERIE STORE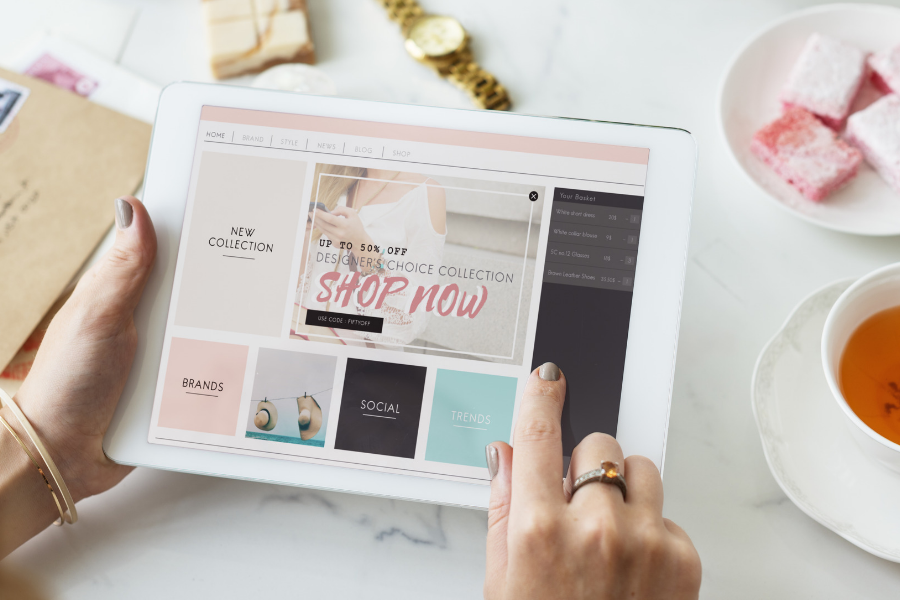 For a brick-and-mortar lingerie boutique, creating a great visual display – in the window and on the shop floor – is key to drawing customers in and tempting them to buy.
Online retail may seem like an entirely different world, but many aspects are similar. One of them being that appearances definitely still matter!
It pays to invest in the visual merchandising of your online lingerie store. Not only will an attractive website generate more orders, but well thought-out visuals can increase the average order value too, by encouraging customers to buy more items.
So how do you create an enticing display online?
Categorise products by style
You need to have the basic categories such as 'bras' and 'briefs' too of course, but not everyone is coming to your site with a specific product in mind that they want to buy. Some people just want to browse, but 'view all' can be overwhelming. According to a 2018 study, 42% of people have abandoned a planned purchase because there were simply too many items to sift through. I know that I have.
Instead, give 'browsers' an easy way to see products that may be most relevant to them, either through categorising by occasion (wedding, Valentine's, casual weekend etc.) or by fashion style (cute, boudoir, everyday basic etc.).
Display coordinating pieces together
In part, visual merchandising is about becoming something of a personal stylist. You want to show your customers how different pieces can be worn, and one way to give them ideas is to display coordinating products alongside each other.
I don't just mean displaying the matching brief next to each bra, though that is very important too! (A surprising number of online lingerie stores make customers use the search bar to see if matching pieces are even available, rather than clearly linking to them from each product page. It's unhelpful to say the least).
I'm talking about things like showing a floaty robe next to a pretty bralette set in the same colour, stockings by a garter set, or boudoir slippers next to fancy silk slips. Help the customer to image how they'd wear each piece, what else they'd have on. You never know, they may just buy the entire look!
Use a mix of image styles
When it comes to online fashion retail, images are everything. The customer can't touch or try on the product, but they still want to know exactly what they're buying. You can do this by including a mixture of full-product shots and close-up pictures that show the details, or a high-res zoom function.
I would also recommend using models, if you don't already. Although flatlays and cut-out shots can be great for showing off the product's features, they won't really give the customer an idea of how the garment fits. And we all know that two bras can give dramatically different shapes!
Editorial or 'lookbook' style images, while not a necessity, can be helpful too. They encourage the customer to picture how an item is going to fit into their lifestyle. It could be a robe worn while sipping coffee in the morning, or a lace-trimmed camisole worn as outerwear to a party. Think of it as storytelling and aim to create a picture your target customer can relate to.
On the homepage, less is more
As we've already covered, there is such a thing as too much choice. For many shoppers, your homepage will be the first part of your site they land on, so there's a temptation to cram it full of products and hope they see something they like. But you'd be better off taking a more minimal approach.
Not only does this look cleaner and more polished, it lets you really focus in on driving customers to a particular place or two – such as your latest offer or a new-in range. Think carefully about what parts of your site are going to convert the best, and promote those prominently.
A line-up of featured products below can work wonderfully too, just remember that you're not trying to show customers your entire catalogue right away. That's what a clear menu bar with all of your product categories is for.
Source: Parfait.com