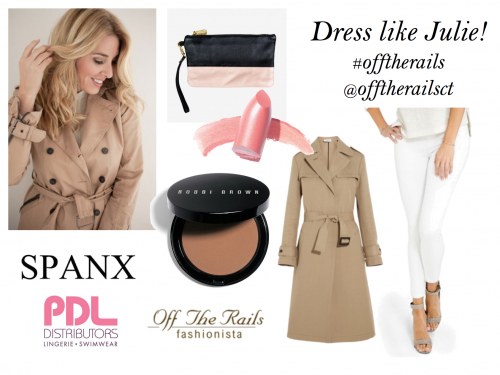 Style Guru Julie Ranzani from Off The Rails is a mover and shaker in the fashion world! She's a fashion blogger, stylist, personal shopper and an all-round power female! We're obsessed with  her sense of style and would like to show YOU how to get her effortlessly-chic look. Julie is hosting one of her fabulous workshops this week in Cape Town and we'll be there representing SPANX with activations and giveaways, make sure you are following her on Twitter and Instagram so you don't miss out on the action.
Julie has done numerous workshops and presentations over the years to various corporates, magazine reader's workshops, her own extensive client database and school fundraising events. Julie's presentations on the latest fashion trends and how to assemble a stylish and functional wardrobe are fun and informative and a wonderful way to treat clients and staff.
This woman-on-the-go always looks her best, here are a few must-haves to get her look
1. SPANX Leggings in white, look like jeans but wear like leggings. Enough said! They're ultra comfortable and super stylish. Get them from SPANX stockists nationwide, you can find a stockist near you at www.pdldistributors.co.za
2. A good trench coat is a wardrobe staple, especially during transition season when Autumn starts becoming Winter. We love the camel colour trench that Julie is wearing! Very chic.
3. Keep your makeup simple and natural with a soft sweep of warming bronzer across your cheeks and finish with a pale pink lip. This is always a winning combo and really suits those with dusty blonde or honey-gold hair.
4. If you're a social media and fashion-blogging goddess like Julie, get yourself a Take Charge bag from www.takecharge.co.za so you can charge your phone inside this stylish pouch while you're on the go. It also has enough space for your lipstick and a few business cards. For networkers and social butterflies, this is a must. Don't be caught with a dead battery! So unsavvy.
We hope to see you at Julies event, we'll be snapping photos of ladies at the SPANX stand where you could win fabulous leggings from SPANX and PDL Distributors. Visit http://www.offtherails.co.za/aw-2016-fashion-presentation/  to find out more.