All the history-making and downright exciting body-positive news surrounding the 2016 Sports Illustrated Swimsuit Issue culminated in one major moment Saturday night when the brand made Ashley Graham one of its three cover stars. The 28 year old plus size model expressed her excitement on Instagram saying:
"Truly speechless!!! This cover is for every woman who felt like she wasn't beautiful enough because of her size. You can do and achieve anything you put your mind to. Thank you so much to the entire @si_swimsuit team! I'm so excited to be a part of your family. I love you all!"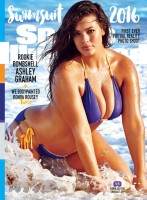 At PDL Distributors, we love to see women celebrating their bodies, no matter the shape or size!
Dimitri Parolis comments, "The ethos of our business has always been about celebrating and embracing the woman in all her uniqueness. We have hand-picked and invested in brands that we believe are ideal to shape, mould, enhance and support all shapes and sizes, with particular focus on the needs of women in South Africa. Through over 20 years of experience in the industry, we have been privileged to share an intimate space with a diversity of women learning about what they want and where they deem to be areas that need support or enhancement. They all aspire to look and feel confident, beautiful and the best that they can be and we are committed to this and provide the products and service to facilitate their transformation"
If you're looking to shop premium plus size swimwear or lingerie visit our nationwide stockists and enjoy a professional fitting which will ensure you feel comfortable, supported and fabulous in whatever you are wearing. If your wearing lingerie or swimwear in the correct size, you will immediately feel great and look amazing!
Here are some of our favourite ranges that cater to bigger busted clientele :
Profile by Gottex
Roidal
Sunseekers
Charmline
Water Cult
Call us for details Tel: +27 (021) 685 7773